Trust
This is the page description.
Here's the truth:
We are BORN to sing.
The human body was designed for sound.
Our brain is literally hard-wired for pitch and rhythm.
Has anyone in your life, be it a doctor, a voice teacher, a physical therapist or a coach ever looked, like REALLY looked and seen all of you? Seen you as one gorgeous whole where every part depends on another?
And, after they were done looking, have they helped you to feel hopeful about what's ahead and not just more broken and in need of fixing?
If it's meant to be sung with some type of microphone, it's our specialty. You are the singers I am called to work with: the professional musician who sings, or wants to sing, but doesn't always trust your instrument to make music the way you want. I'm on a mission to help singers to trust the vocal instrument—to make the sounds you want, when you want them.
I have spent over 25 years teaching musicians the skills needed so you can sing and trust your voice.
I have taught singers who had been told never to sing to make sound with confidence, pitch, and communication.
I have helped talented working singers develop more efficient and effective techniques, freeing up their artistry in ways never before available.
I am passionate that singing is a fundamental human right and that everybody can sing. Everyone should be able to trust their voice and the sounds that come out.
First and foremost, this is a partnership. You need to work. Singing is an athletic skill that requires practice and attention. Even five minutes daily will get you further than one 2-hour block weekly. My job, always, is to find a way to give you individualized information so that it "clicks" in your brain so you can make the sounds you want, when you want them. No cookie-cutters at Velarde Voice (although cookies are good!).
We'll work together to figure out your vocal goals and find a plan of action. Your voice and your goals are most important. You will be challenged with honesty and support. You will be encouraged and given the tools to succeed. You will find that your voice can be everything you want it to be.
Trust your vocal sound.
Play with communication.
Sing to your maximum potential.
Reveal Your Hidden Instrument.
Yes, I call myself a voice teacher rather than a singing coach, but the bottom line is, I know how to help you achieve your vocal goals.

I am a teacher of voice. I started teaching vocal lessons in 1993 while still in college. I was immediately hooked, and I've been a voice coach giving singing lessons ever since. I most love learning how to deliver information on singing and the voice to all types of musicians, especially to singers who want to sing but don't know where/how to start.

I am a trained "Singing Voice Specialist" (SVS)—someone who works with local voice doctors, voice therapists and singers who have been diagnosed with a voice disorder/issue. I've worked with singers who have had: a double lung transplant, vocal fold paresis, paradoxical vocal fold motion, vocal fold bowing, left medial vocal fold cyst (me!!), and muscle tension dysphonia (several students, but me again/too!). I have lots of information about the function and physiology of the vocal systems and I can help.

I am active in several professional organizations; I connect with other singing teachers throughout the world. I am passionate about bettering my craft and will refer you to someone else if (when!) we find you need information I don't have. I know people. I hang out with the "cool kids" at voice conferences, and commercial music is where it's at! I'm constantly learning and networking with other voice professionals so I can bring updated information to each and every lesson.
I grew up with popular music as my norm, learning how to roller skate to my grandfather playing the organ. My family sang and harmonized together almost every night. I knew music was my life, yet I didn't realize that I could study "fun music" in college and my formal training began in classical music. I continued to sing jazz, music theater, and rock every chance I get.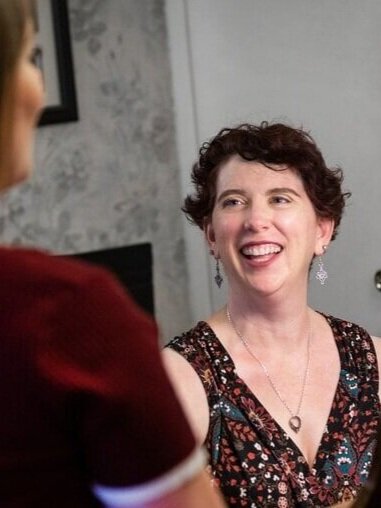 My "superpower" is that I believe in you.
I will work with you and for you as you reach for your vocal goals. I'm a reference librarian's daughter. That means that I know how to find out any information needed on our journey together. I love nothing more than helping you to trust the voice that may have been previously "hidden" from you. Singing is a fundamental human right, and I will fight for your rights with all I have.


Trust your vocal sound.
Play with communication.
Sing to your maximum potential.
Reveal Your Hidden Instrument.
The fine print:
BA Music from Smith College (yes, one of the Seven Sisters!)

Began teaching at The Music Studio in Northampton, MA while still in college

Master of Music (MM) in Vocal Pedagogy and MM in Vocal Performance, both from Arizona State University

Attendance at every workshop, talking with every teacher I can, about teaching CCM styles and vocalizations (this is an ongoing effort! – I'm always learning and connecting)

Doctor of Musical Arts (DMA – I always have to say the full name with a hoity-toity accent) in Vocal Performance with an Emphasis in Voice Pedagogy

Wicklund Singing Voice Specialist (SVS) certification

CoreSinging™ Certified with Meribeth Dayme

Associate Professor of Music at Grand Canyon University

25+ years of experience teaching voice

Member of the Speakeasy Cooperative (SECO), the National Association of Teachers of Singing (NATS), the Pan-American Vocology Association (PAVA), the Voice and Speech Trainers Association (VASTA), and the New York Singing Teachers Association (NYSTA).